Ergo mode is a feature currently available on the Wattbike Atom, Next Generation Wattbike Atom, and the Wattbike AtomX.
Ergo mode allows you to select a target wattage in Quick Ride, and the resistance of your smart bike will be adjusted automatically to match the target wattage independent of your leg speed.
To use ergo mode during Quick Ride, press the top button on the right shifter. Press the up and down buttons to increase or decrease the target wattage. Please see the photo below for clarification.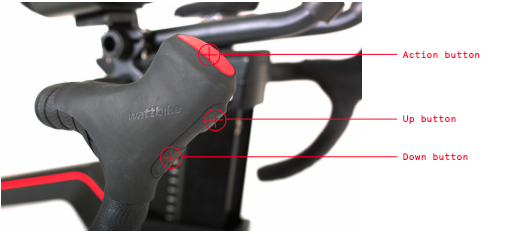 When you select to follow one of our structured workouts in the Wattbike Hub app, the Wattbike will again adjust the resistance automatically to follow the workout or climb you have selected.
If you are using your Wattbike Atom or AtomX with third-party apps, the ergo mode is available there too. During a Zwift ride, for example, the bike will automatically adjust the resistance to match the gradient and terrain of the ride you are doing. So you don't need to worry about changing gears - just keep pedalling!