Zwift Play takes your riding to new heights by allowing you to control everything from your handlebars, unlocking immersive gameplay with steering and braking controls.
With the Zwift Play consoles, you can navigate virtual worlds in Zwift, make precise turns, and experience the feeling of realistic outdoor riding. The controllers bring an additional layer of interactivity and engagement to your workouts.
Quick & easy setup - Easily attach Zwift Play to your road bike handlebars using the integrated silicone rubber strap for a secure fit. Spacers are included in the box, ensuring compatibility with even slim handlebars. Removal is also quick and easy.
Integrated rechargeable battery - Zwift Play comes equipped with an integrated rechargeable battery that boasts a long-lasting 20-hour battery life. Additionally, the provided cable allows for the simultaneous charging of both controllers while riding Zwift.
Cable-free connection - Zwift Play connects wirelessly to the Zwift App via Bluetooth.
Setting Up Zwift Play
Attaching and setting up Zwift Play controllers to your Wattbike Atom handlebars is simple.
Identify your right and left controller
Attach your Zwift Play controllers to your Wattbike Atom handlebars by placing them under the brake hoods (as high up as you can, without covering the shifters). Wrap the flexible strap around your handlebars onto the hook.
Powering up your controllers is easy - just press the Zwift logo button. Once they're on, the LED will flash blue to let you know they're ready to pair.
Download the Zwift app and log in. Then turn on your Zwift Play controllers and follow the on-screen instructions to connect them. It's simple.
Here are some top tips
Make sure you place the controllers as close to the bottom of the hoods, without covering the Atom shifters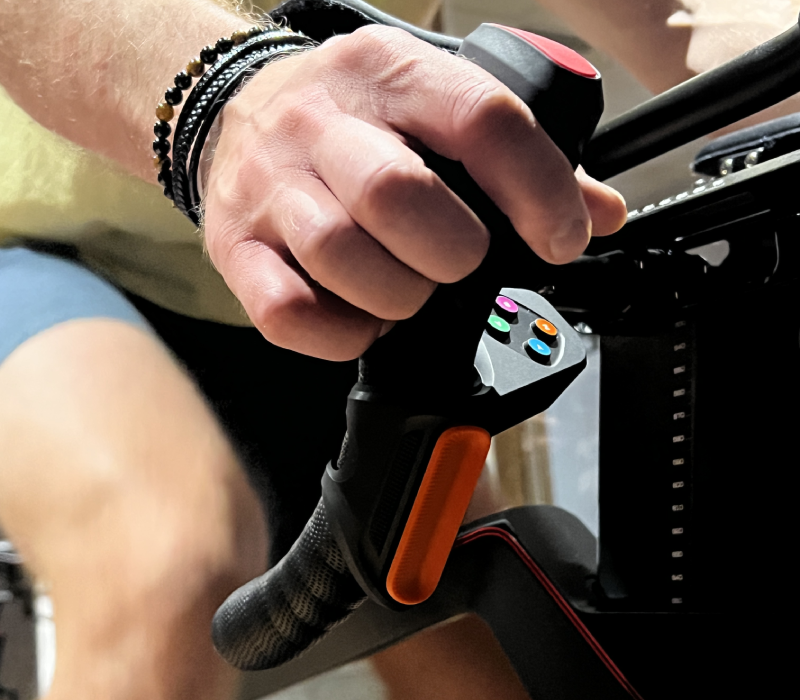 You should be able to reach the Zwift Play buttons easily with your thumb, whilst your hands are still on the hoods.